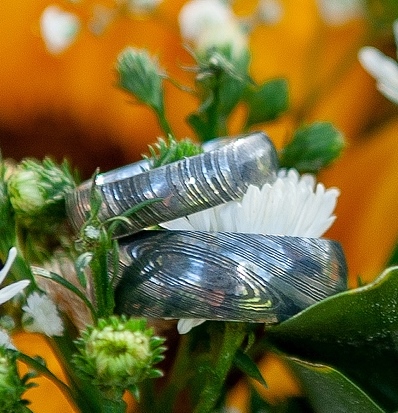 Damascus rings are incredibly durable and the steel is super hard. It needs a little looking after because of the high carbon steel used, but nothing major.
We insert a silver comfort liner on the inside (not really a visible feature) to protect the steel from sweat and to protect the skin against the edges of the hard steel.
Our ring designs are simple. Dennis believes the steel must do all the talking, but you can take it to a jeweller yourself to add gold etc. We do not do custom ring designs.
Customers (including couples his & hers made from the same steel bar) adore their rings and we export rings all over the world.
Ring prices do not include shipping and the shipping cost varies according to where you are located. If you are an international customer you will not be liable for RSA VAT as we are a registered exporter.
We use 1) Fastway for RSA deliveries (costs between R35-R185) 2) Post office registered post for international parcels (depending on weight from R500-R800). You can also collect the ring yourself if you are close enough.
If we don't have your ring size in stock Dennis has to make an entire steel billet and depending on if we are in a steel manufacturing cycle at that stage, it can take up to 8-16 weeks. We only manufacture rods 3 times a year. Dennis is manufacturing all the ring sizes from P-X at the moment and we will have at least one of each available in the near future.
With regards to engraving, it is possible to laser engrave on the Damascus steel. The set-up cost is +-R100 and the engraving is +-R20. We can send the ring to the engraver for R35 but you must please negotiate with them directly about the spelling and font and size you want. You will have to collect the ring there & pay them directly as well please.
PLEASE NOTE: We cannot guarantee the outcome of the pattern on the steel. It is not an exact science and the nature of the handmade steel what makes it unique and so beautiful.
All rings are made in a Damascus Twist pattern – it looks the best on the rings.
We make: (All prices are VAT inclusive EXCLUDING shipping costs)
10mm – R1600 (suitable for large hands)
8mm – R1365 (suitable for both men/ ladies hands)
5mm – R1365 (suitable for small / ladies hands)
We will require:
1) Your precise ring size (all jewellers have a ring sizing set where you can take the correct measurement)
If you are South African, you can also visit our home store in Centurion so that you can take the correct measurement yourself here as we have a ring measuring set on the premises.
2) Pre-payment of the order – I will generate an invoice for you with all the relevant details.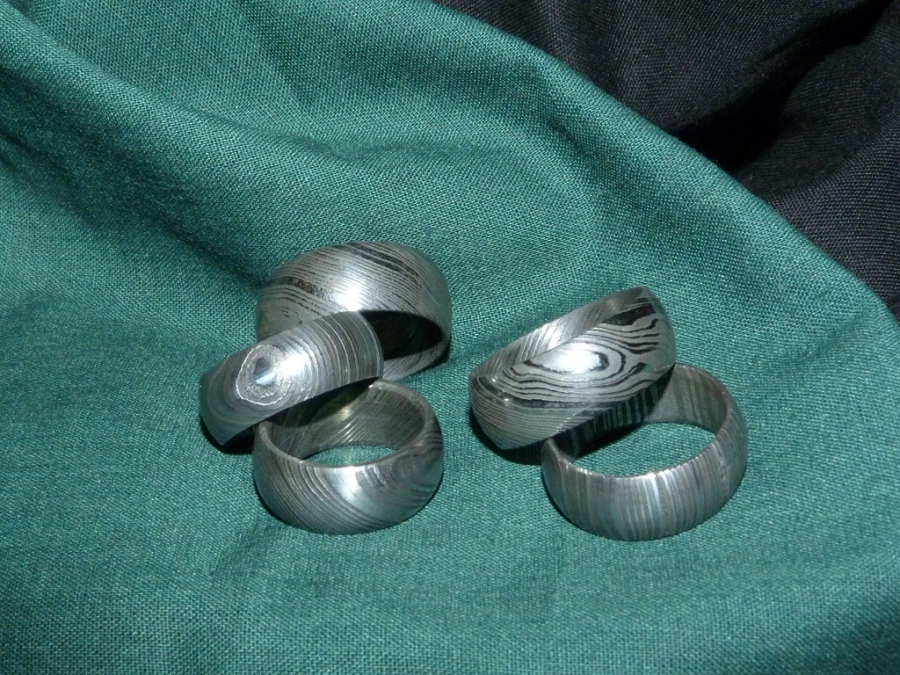 Order a damascus ring to your size....each is absolutely unique.
{{item.currency}} {{pricing}} - Out of Stock

Add to {{item.cart_name}} for {{item.currency}} {{pricing}} {{item.currency}} {{item.normalPrice}}
{{added}}
Continue To Checkout